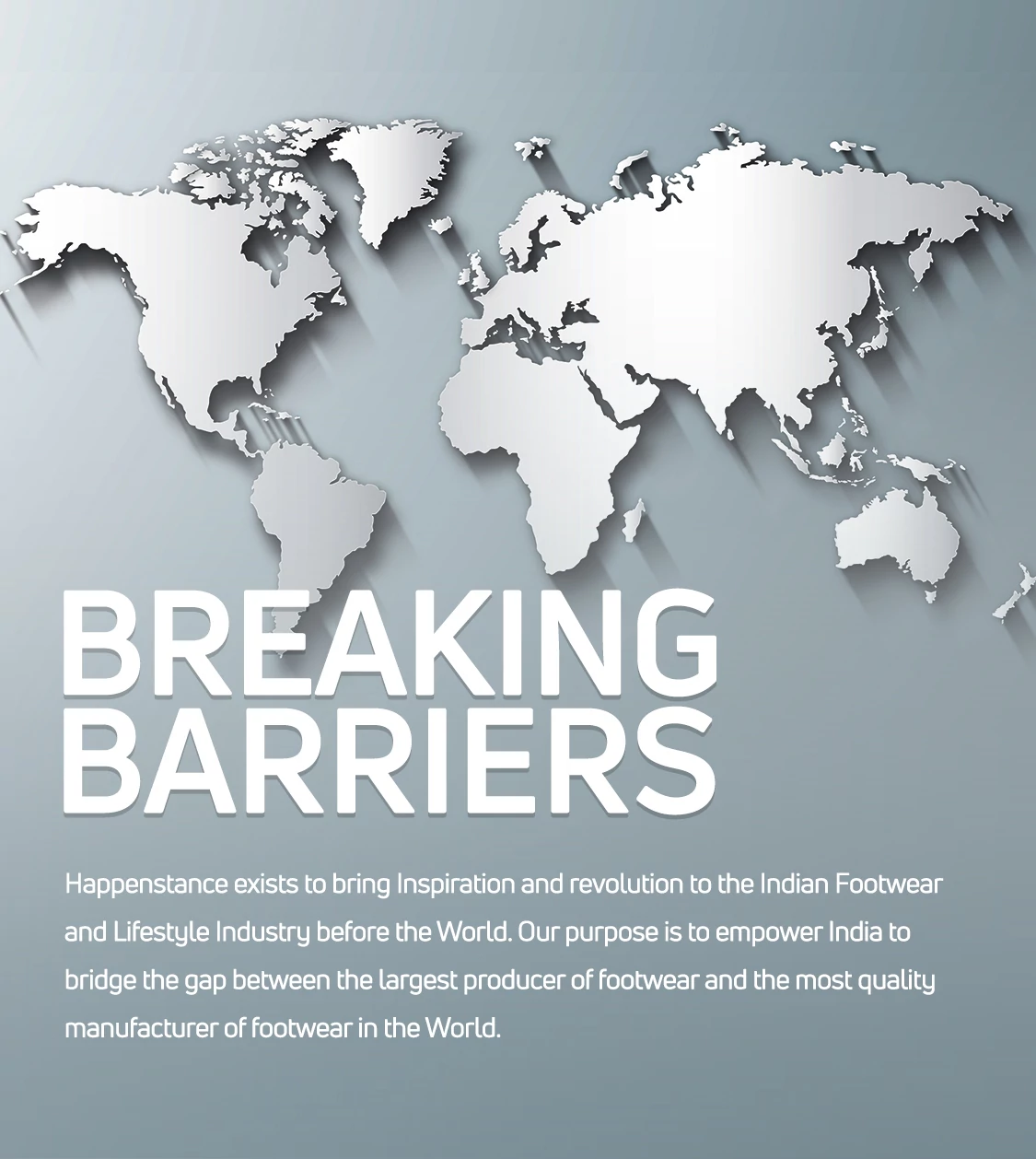 Comfortable shoes & sandals

Type
Private
Industry
Lifestyle
Founded
2018
Launched
2019
Headquaters
Mosons Enterprises, Thalassery, Kerala, India
Area served
All India
Products
Comfort Footwear's & Accessories
Website
Happenstance.com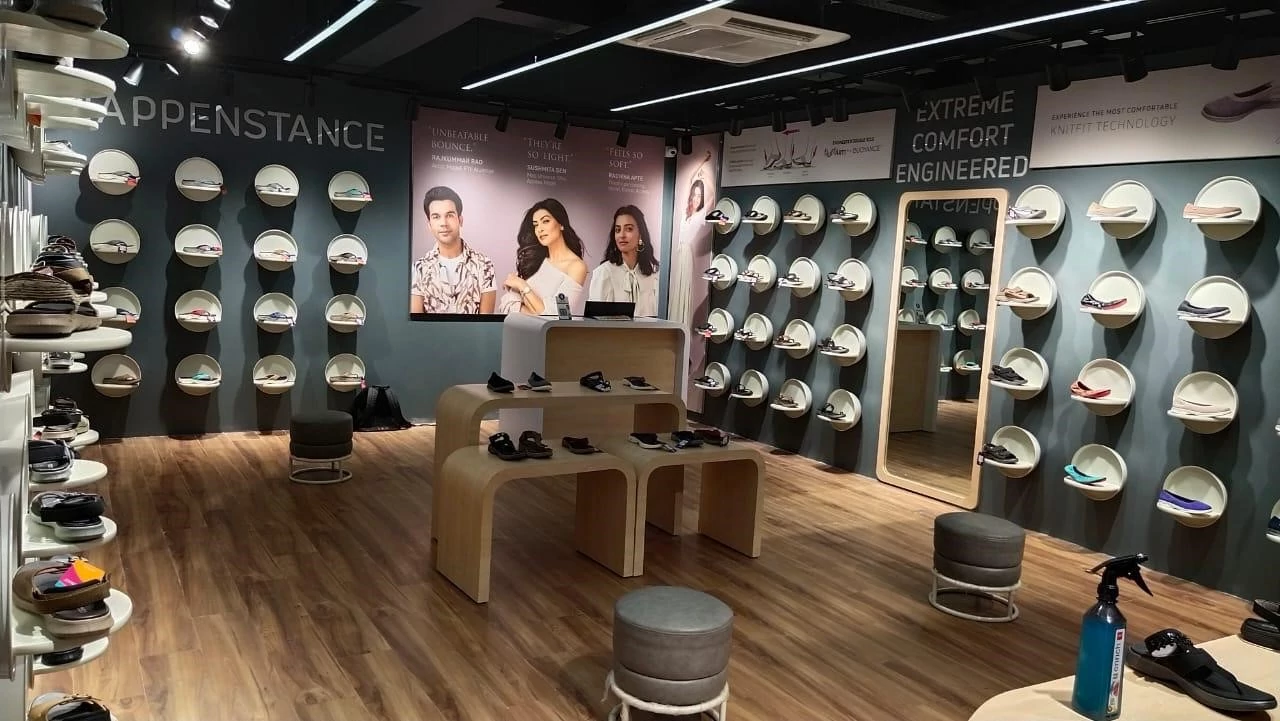 HISTORY AND
ORIGIN
Parent Company of Happenstance - Mosons Group, started off many decades ago as a food processing unit that in later years gone to produce one of the foremost Indian brands in the personal care sector. Later acquired by Hindustan Unilever in 2016 and thus turned out to be a household name. Mosons group, after the prodigious research among the footwear brands across the globe and in India, lead to the possibility of developing unique range of technology based comfortable footwear within the Country in an affordable pricing. The factory layout and forming 360 degree activities within India contribute towards the Atmanirbar Bharat movement.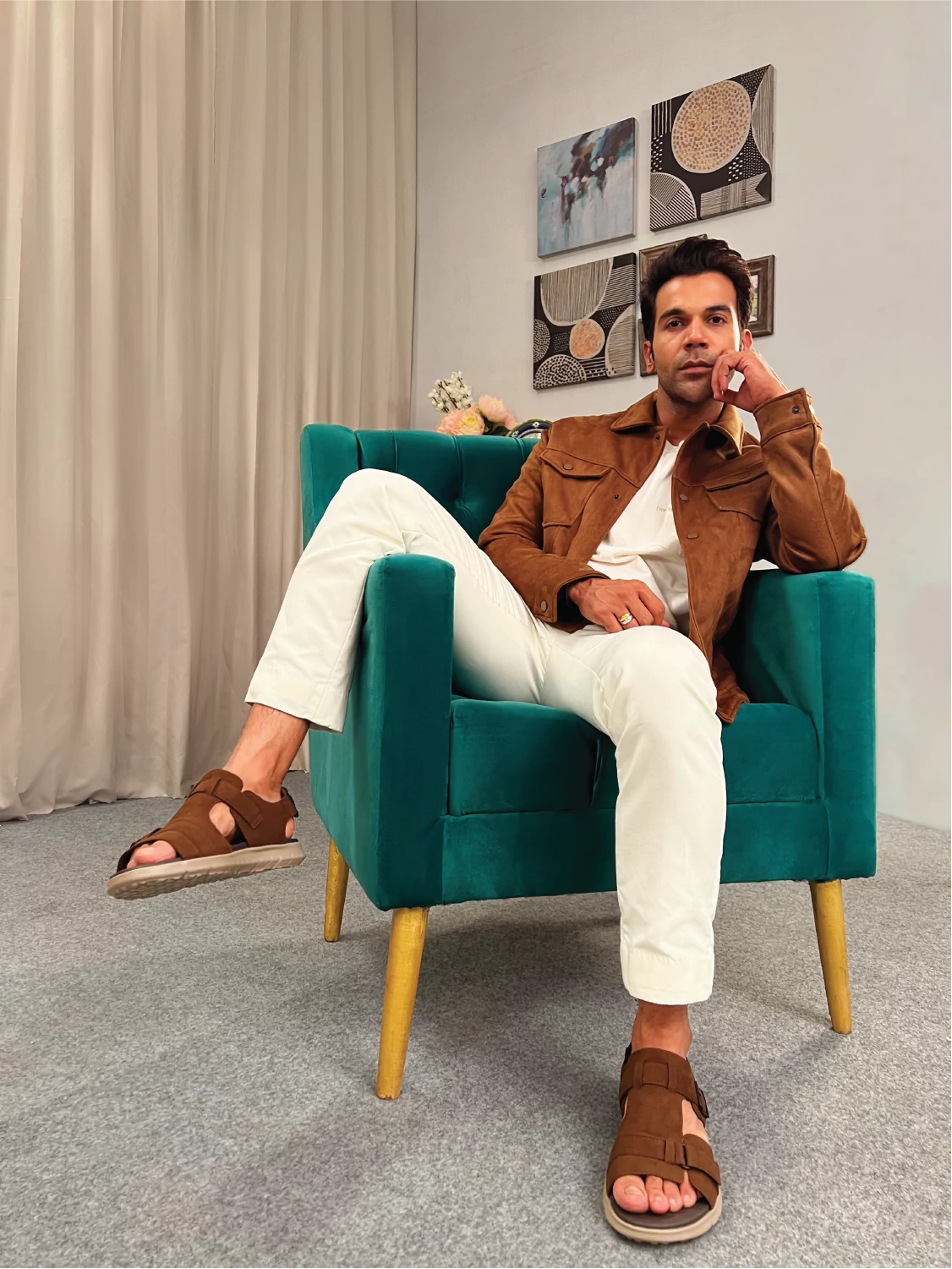 THE GLOBAL FOOTWEAR
INDUSTRY
WHERE INDIA STANDS
In terms of global footwear production, India is second only to China. China produces 55%-60% of footwear globally, while India produces only 10%.
In terms of consumption, India holds a global share of about 11.7%.
India imports more footwear than it exports. In 2018, India exported 262 million pairs and imported 289 million pairs of footwear.
India's average footwear consumption per annum is 1.8 pairs/person, as opposed to the global consumption of 3 pairs/person. While the developed countries average around 6-7 pairs.
Currently women's footwear market is below 40% in India while global footwear market for women is 60%. To catch up this gap women's footwear market is growing rapidly compared to other segments.
Hike in the import duty in the 2020 budget on footwear from 25 per cent to 35 percent and on footwear component from 15 per cent to 20 per cent is expected to help Indian footwear manufacturers.
THE VISION
To turn India into a hub for quality footwear production.
THE MISSION
To help India overtake China and reduce the gap in global footwear production by scaling up India's overall production to 20% within the next 5-7 years. Driving this change, Happenstance will strive for 5% of this. The revolution that begins thus, will prompt other manufacturers to scale up in terms of quality and technology. This has the potential to account for the remaining 15%.
To inspire and spawn more Indian brands.
To change the Indian perception on the use of technology in footwear.
To gain global acclaim for technology and research in footwear manufacturing.
THE INDIAN
FOOTWEAR INDUSTRY
THE PROBLEM
The global perception: Indian-made footwear is cheap in quality and pricing, with unoriginal designs and low manufacturing quality.
Problem 1: Lack of technological innovation and advanced research in footwear design and development.
Problem 2: Unorganized industry with both manufacturing and supply chains being scattered, leading to higher costs than other countries.
Problem 3: Limited global brand positioning strategies.
THE SOLUTION
Technological innovation: Invest in research and analysis.
Organized industry: Consolidate the industry as a hub.
Creative marketing: Change the perception about the Indian footwear industry.
This would be key for several factors like
Robust infrastructure development
Creation of an ecosystem for innovation.
WHAT WILL WORK FOR US?
Workforce: A large, young trained work-force with 62% of population in the working age group.
Footwear using advanced technology costs above 10K with International players. With the innovations planned, we can provide the same quality for less than one third of their price.
HAPPENSTANCE: A
NEW DIRECTION
Identifying a large gap in the Indian footwear industry, Mosons set up a production facility for a footwear company that would focus on what the market lacked: comfortable yet stylish footwear aimed at the growing number of global Indians. Since it's inception in 2019, Happenstance has grown in popularity and has quickly turned into a respected brand.
Now in its third year, Happenstance is all set to start producing their unique patented compounds and raw materials at their production facility. Happenstance also has an in-house creative and development team working on their website, advertising and marketing.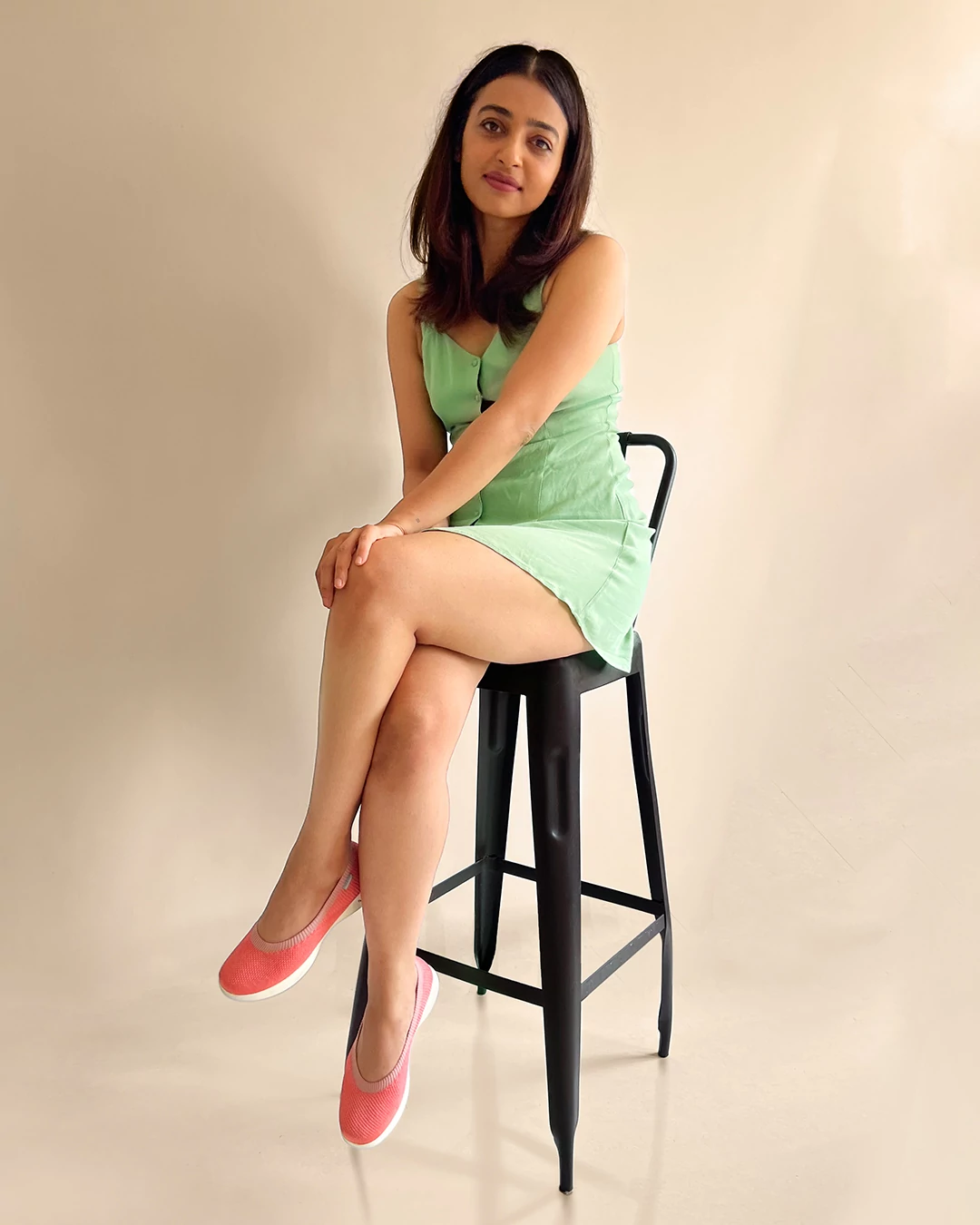 HAPPENSTANCE: A
SNAPSHOT
In a market that is saturated with footwear brands, Happenstance broke the clutter and set up its identity by focusing on a niche area most ignored by other brands: comfort. Today, Happenstance is the only brand that offers comfortable footwear that caters to Indian skin tones, clothing styles and affordable prices.
Happenstance is one of the few Indian companies that does not import readymade footwear and white-label them. The idea of the brand is to change the Indian perception towards comfort: comfort is important for health, especially when it comes to footwear. After some extensive research into the problems caused by improper footwear, Happenstance arrived at the ideal compounds and designs for comfortable footwear.
With quality and comfort being the goal, Happenstance dug deep for inspiration. The Department of Applied Biomechanics was set up to research various designs, compounds and formulations that could help the brand arrive at the best possible mid soles, out- soles and insoles. This research led to the formulation of the brand's own recipes for compounds and materials (details below).
Knitfit: super stretchy knitted upper material
Fluffium: light, flexible, bouncy, better compression set outsole with high rebound resilience
Buoyance: light, flexible insoles that mould to the feet
Shocksorb: Upcoming next-gen compound with high shock absorbency
Together, these revolutionary materials work towards reducing the impact of ground reaction force (GRF) on the ankles and knees. This, in turn, makes for a better walking experience with minimum wear and tear to joints.
HAPPENSTANCE:
DRIVING THE CHANGE
THE PLAN
Spark a revolution in the Indian footwear industry and capitalize on the first-mover advantage.
Bridge the gap in production and tap atleast 5% of the total global production.
Position the brand at par with International brands.
Be recognized globally for quality, as a brand that invests in technology, and export to European countries at a much cheaper rate than the market prices of big brands.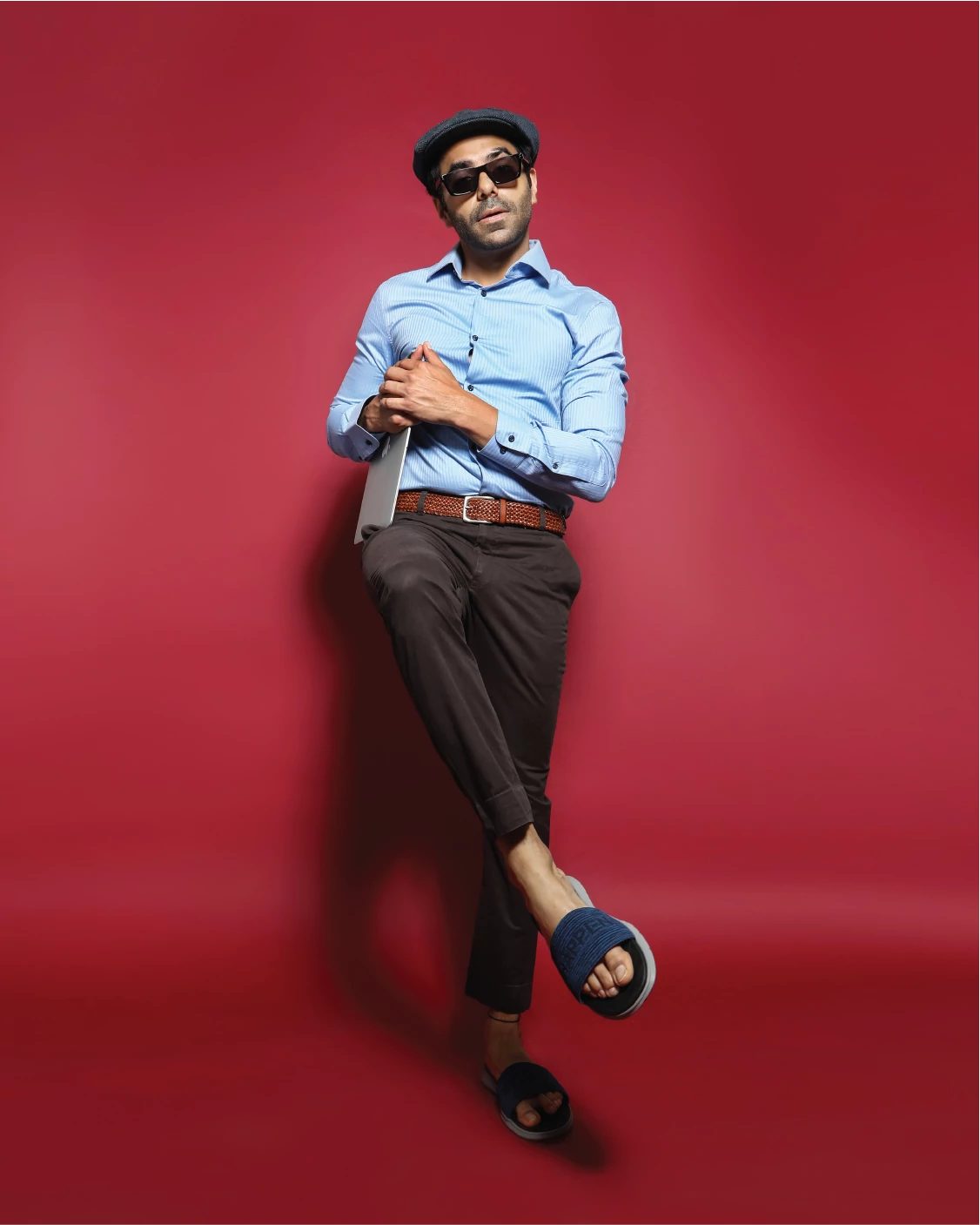 BRAND
PHILOSOPHY
Comfort is what we need to bring out our best. Happenstance believes in helping people maintain a firm, comfortable foothold over their reality and then giving them the gentle nudge that they need, in order to step out of their comfort zones. It is often the little things that matter, when it comes to comfort. Comfort lies in the tiny details. But it makes a world of difference in the way we approach and deal with life. This has been the compass that drove us forward.
APPLIED
BIOMECHANICS
In 2017, Happenstance setup a wing of researchers through the institute of Applied Biomechanics to study the walking patterns of the individuals. This study is dedicated to the development of ergonomically inspired footwear soles and footbeds. The unique BUOYANCE footbeds and FLUFFIUM outsole are soft enough to help absorb shock on impact and firm enough tospring back with each step. This offers the wearer to dissipated weight in the right measure and the intui- tive design with deep heel cups help to fix the feet firmly and maintain heel profile, providing adequate arch support. Happenstance with the marvel of biotechnology made sure that each element of the styles are carefully conceptualized and detailed out by the master artisans.
THE RELENTLESS
PURSUIT OF CREATING
COMFORT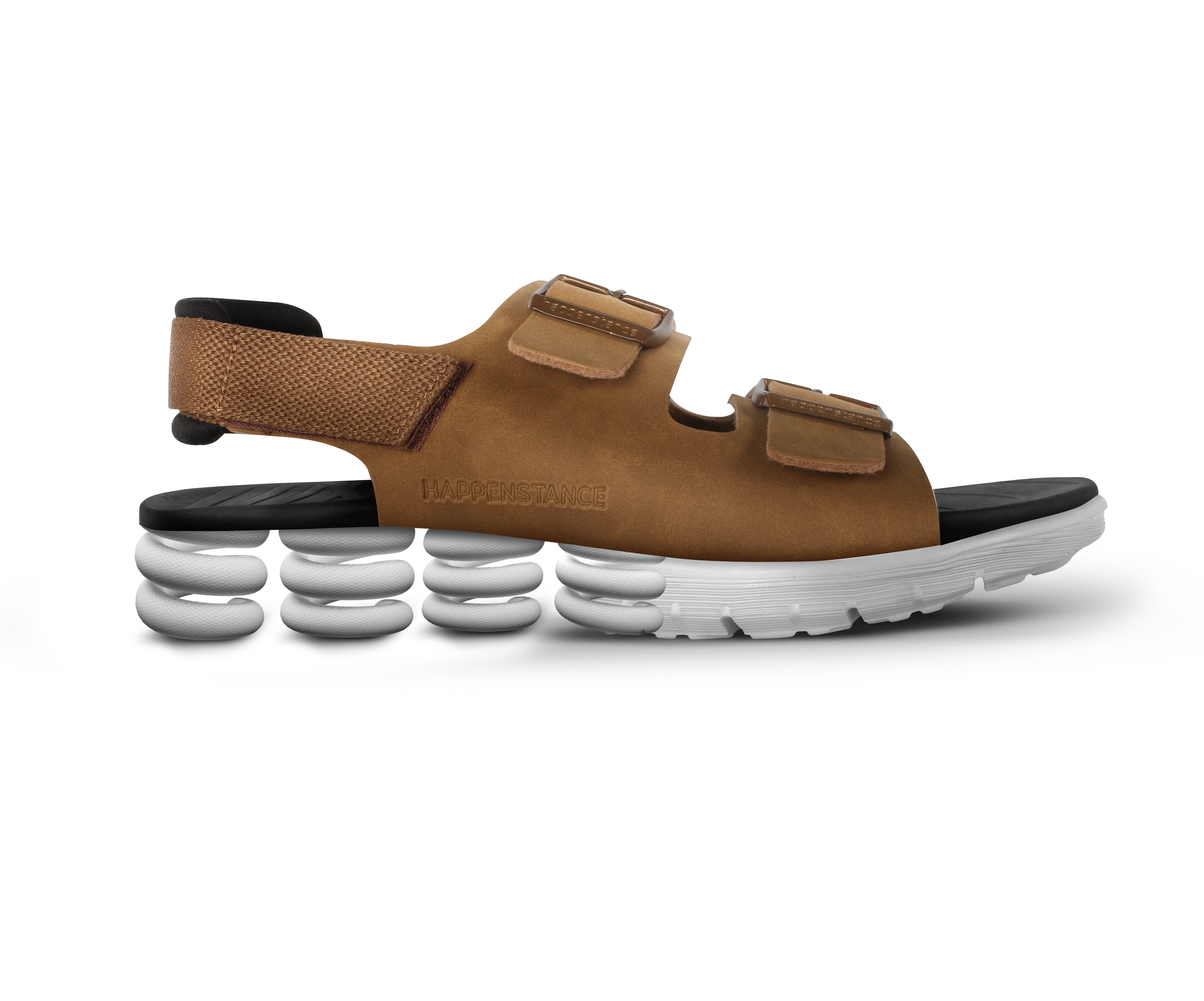 We create state-of-the-art products engineered to create extreme comfort and make life better, and sophisticated technologies to drive performance. From our origins in Kerala, where our headquarters are located, we're on our best efforts to grow into a proud Indian Brand made, sold, and worn worldwide. And we're just getting started...
WITH LOVE,
TEAM HAPPENSTANCE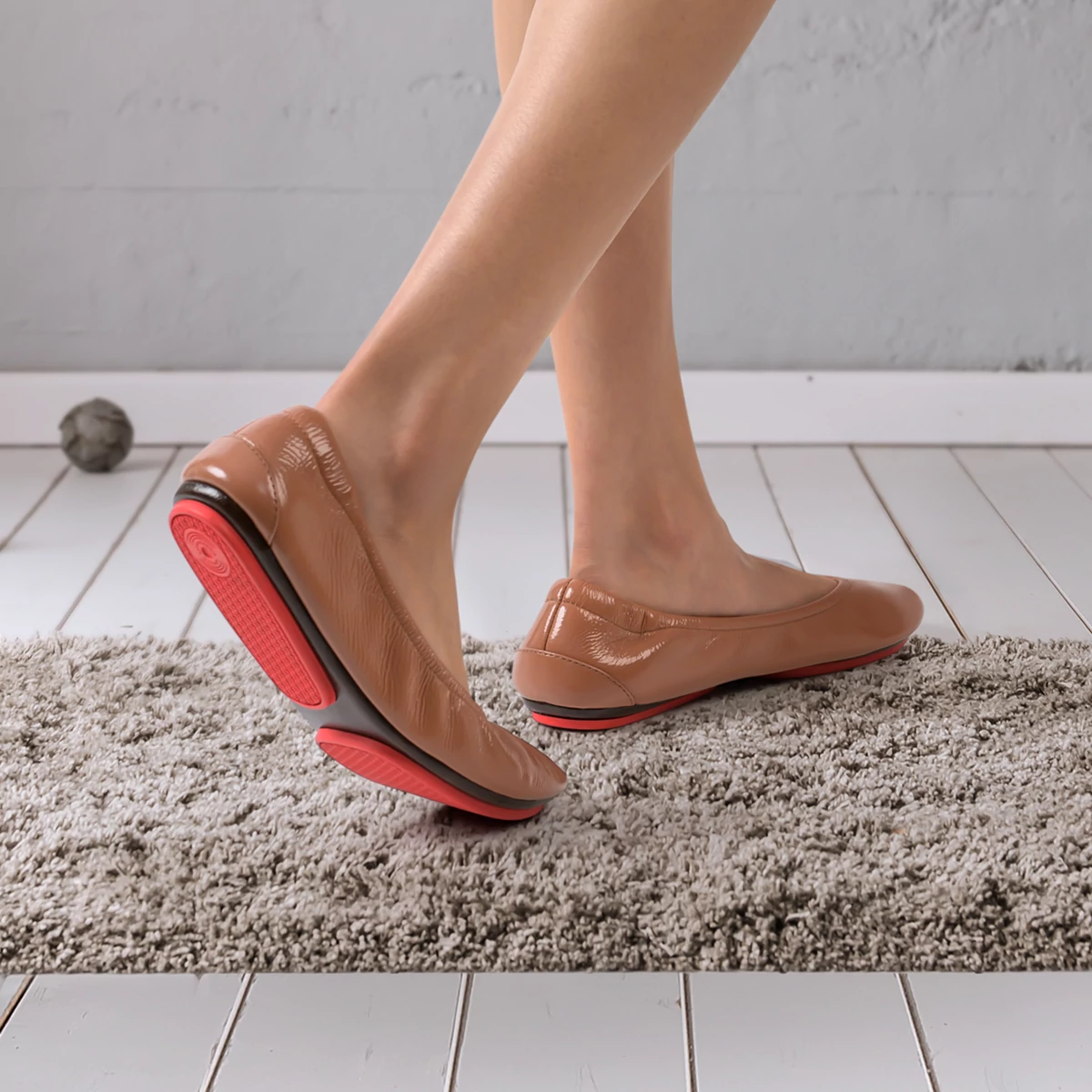 Leonardo da Vinci described the human foot as "a masterpiece of engineering and a work of art". And to make sure we can look after it better than anyone else, we've studied it. From the cradle to old age. We've looked at the way it develops. We've scrutinised its biomechanics, the way it moves at work, rest and play. We've deliberated on what it takes to keep feet healthy and happy. And what we've learned is what helps us make the perfect shoes for you.